ECM Store
Last day to place an order is December 9, 2020, for December 12th pick up and curbside pick up and delivery.
Delivery dates for later orders are December 19th and December 24th, and January 2nd, 2021.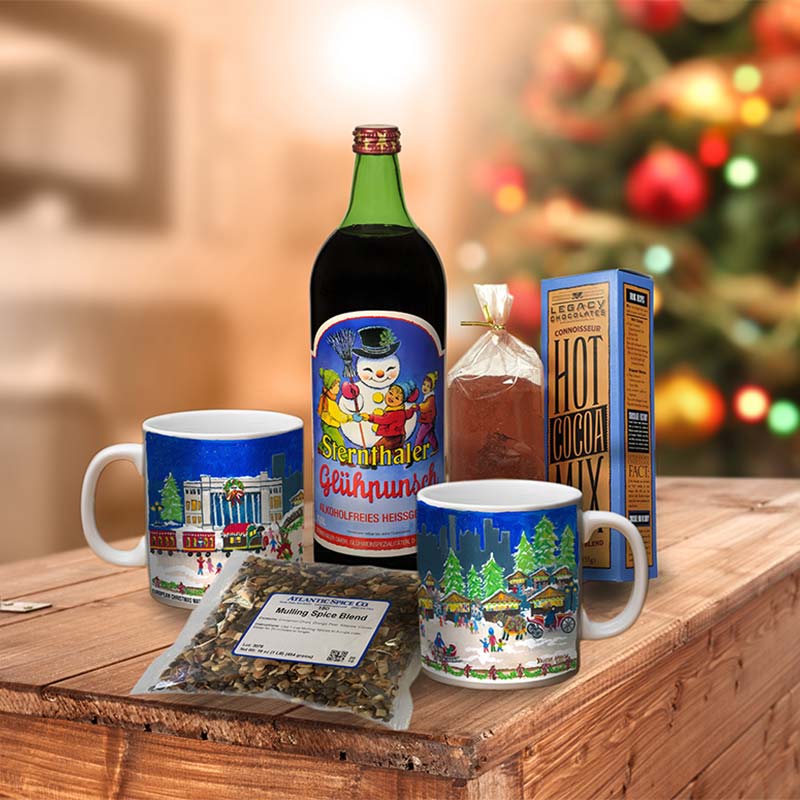 We appeal to our cherished European Christmas Market (ECM) fans to support us with this fundraiser so we can produce a live Market to help local vendors, artists, artisans, and small entrepreneurs in the future.
Our gift boxes are ideal for your own use and also as gifts to friends and clients. A 10-pack purchase qualifies for free delivery and a coupon discount at checkout. Use code SAVE50 when checking out for a $50.00 savings!
Each gift box comes with ECM's very special and unique commemorative limited edition 2020 ceramic mugs. Only a small number of these mugs have been made compared to several thousand last year. The mugs feature an elaborate Christmas market scene especially designed for ECM by local artist Kristen Amanda and locally imprinted on the mugs by Dunn & Semington.
The gift boxes also contain either (1) a bottle of non-alcoholic Christmas punch from Germany, (2) mulling spices with which to make the traditional spiced mulled wine called Glühwein or to use with ciders, tea, or even coffee, or (3) a hot, cocoa mix, a European blend from St. Paul's Legacy Chocolates.
SAVE BIG
Use the code GOBBLE20 at checkout to save 20% off your order!